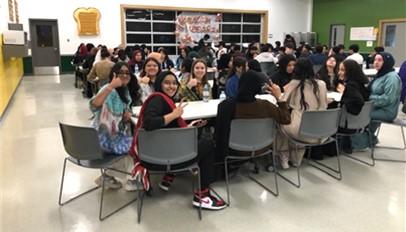 MAY 4, 2023 — Campbell Collegiate's Muslim Student Association (MSA) is active all year and has organized events such as fundraisers, potlucks, speakers and other community-building initiatives.
During Ramadan, this group was really busy. Tuesdays and Thursdays are dedicated to the MSA Speaker Series, where different members of the community come in to speak about a variety of topics, including volunteerism, community, time management and so much more. This speaker series has been well attended, often with around 100 students in attendance and are open to all Campbell students.
One of the most significant events that the MSA organized was an MSA-led Iftar. On April 5th, over 120  students and staff attended this event. Students and staff brought food to share in a potluck and everyone joined together to break fast, pray and enjoy some delicious food! Students could also sign up to participate in a charity basketball tournament with the winning team getting to select where the money raised would be donated.