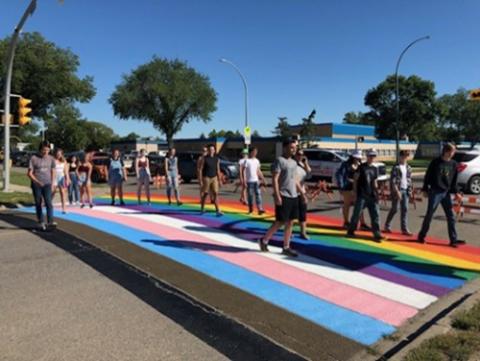 JANUARY 5, 2023 -- Campbell Collegiate's Queer-Straight Alliance (QSA) has had a very busy first half of the school year! In August, this amazing group of students came together to paint a rainbow crosswalk and rainbow sidewalk in front of Campbell Collegiate. The goal of this was to create a sense of belonging for people not only in the school but also in their greater community.
The next thing the QSA turned their attention to was a Halloween party to which they invited students from Sheldon-Williams Collegiate's GSA to join them for karaoke, dancing and, of course, pizza! This was an incredibly well attended event with over 50 students showing up in amazing costumes. There was so much laughter and many great memories made as well as some amazing musical numbers.
Another activity that Campbell's QSA had the opportunity to participate in was a visit to Indigo Books with the purpose of selecting a variety of queer literature for the school's resource centre. The QSA selected a range of books that will appear in the library with a rainbow flag on the spine. QSA students will also have the opportunity to write their name in the book and create a small writeup/review to further guide staff in ways to include these texts in the classroom. One of the QSA's goals has been better representation in their building, and this was a perfect way to work toward this goal.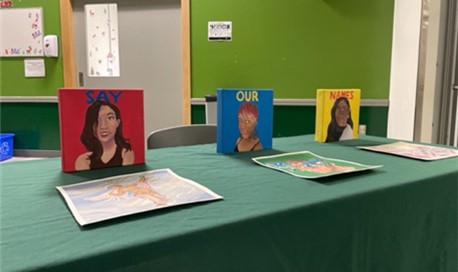 The most recent event that Campbell's QSA has been a part of is the Transgender Day of Remembrance. This is a day that is incredibly important because it recognizes the transgender and gender-diverse lives that have been lost to violence throughout the past year. On the evening of Monday, November 21st, the QSA hosted a memorial event for students, staff and community. They read out the names of the lives lost, shared poetry and art, and offered a space for people to grieve, ask questions and seek support from one another.
Looking to the new year, Campbell's QSA will be start the planning process for their queer prom, which has been put on hold the last few years because of COVID, but it will be back bigger and better than ever this year! This will be an opportunity for students in Regina Public, Regina Catholic and Prairie Valley school divisions to come together to celebrate graduation in an alternate setting.