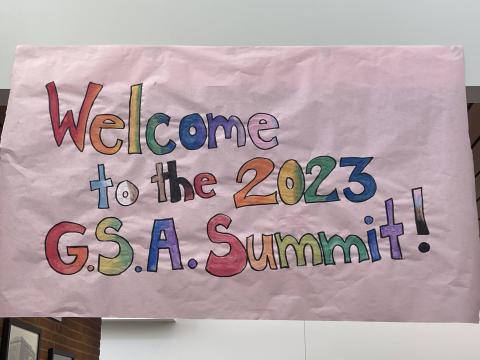 MAY 30, 2023—On May 13th, École Connaught Community School hosted the third annual Regina Public Schools GSA Summit for students in Grades 5 to 8. The GSA Summit was a day designed by GSA students for other students across the Regina Public School Division. Its purpose was to have fun, make new friends and be themselves. The event also encouraged participants to celebrate identity of self and identity of others.
Changing the GSA Summit to a Saturday proved to be a huge success as the event also allowed students to attend the summit who do not have a GSA group at their school or who do not belong to their school's GSA. This year, 101 students and 40 adults, of whom 10 were parents, attended. There were 16 Regina Public schools represented (Henry Braun, Ruth M. Buck, Connaught, W.H. Ford, Dr. L.M. Hanna, Harbour Landing, W.S. Hawrylak, Kitchener, Jack MacKenzie, Massey, McLurg, Marion McVeety, Ethel Milliken, Plainsview, Wascana Plains and Wilfrid Walker). It was affirming to see the school filled with students, teachers, educational assistants, administrators, trustees, other RPS staff and parents.
The summit opened with students from Wascana Plains reading the land acknowledgement and diversity statements. Students from École Connaught then introduced Tara Molson, the Chairperson of the Regina Public School Board, to say a few words about the importance of GSAs, inclusivity and belonging.
After the opening, students participated in sessions such as button making, karaoke, book café, bracelet making, makeup tutorial, ukulele playing and face painting. The adults spent the morning participating in an information session facilitated by Gina Bradshaw, a vice-principal with Prairie Valley School Division, who does diversity work. UR Pride also had a booth for the students and adults to learn about what services they offer.
The GSA Summit would not have been possible without the support of Regina Public Schools and SaskTel Be Kind Online, Shelley Jephtas-Crail (who provided Mary Kay makeup samples) and Naked Bean (who provided coffee for the adults).
A huge thank you to the GSA Summit Organizing Committee: Kyla Christiansen (Division Office), Regan Williams (Division Office), Meira McNevin (Ethel Milliken), Dave Clampitt (Campus Regina Public), Tyler Henry (Connaught), Sage Fox Schaffer (Connaught), Krystal McPherson (Connaught), Dani Hackel (Wilfred Hunt) and Kari Nagel (Connaught), as well as the GSA advisors and teacher reps who promoted the GSA Summit and volunteered to facilitate sessions.
The best part of this event was seeing the excited students loving every moment of the day!