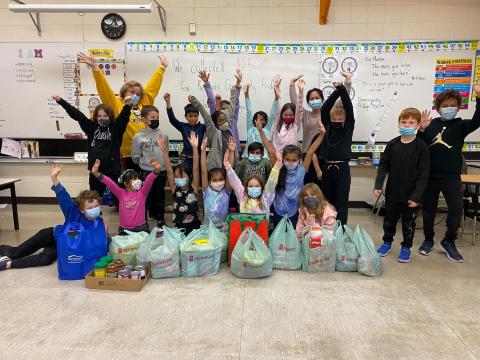 NOVEMBER 30, 2021 -- The Grade 3 students at Ethel Milliken School had an inspiring conversation during Social Studies as they learned and realized that families in our city are sometimes faced with the harsh reality of having an empty fridge at home.
A student shared his family's experience donating to the local community fridge, and the class erupted with, "We need to donate too!" As a class, the Grade 3s decided to start Change for Change and Food Fridays. Students brought change and pantry products from home to donate. In health, the class created grocery lists full of healthy food choices! In math, students practised skip counting with coins, rounding, and adding as they flipped through flyers to find the best grocery deals. The class collected $200 to purchase groceries with an estimated $100 of pantry donations as well.
Teacher Jasmine Korpan was able to purchase fresh fruit, vegetables and other healthy items that students had included on their lists, and one student, with his mom, happily volunteered to deliver the items on November 5th. The student was surprised to see families already lined up for the food, and he handed a lot of Milliken's donations right to the children waiting. He was also surprised to see how excited the children were to get fresh fruit!
Ethel Milliken's students and families loved the opportunity to give back to their community, and the class already has plans to collect more Change for Change.