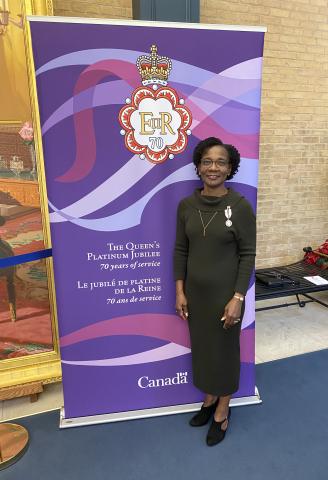 JANUARY 17, 2023 -- Congratulations to Maxine McKenzie-Cox (Vice-Principal at École Massey School and Diversity, Equity and Inclusion Coordinator for Regina Public Schools) for receiving the Queen Elizabeth II Platinum Jubilee Medal for volunteerism and community service in Saskatchewan! Maxine was nominated by Carol Lafayette-Boyd and was presented with her medal by the Honourable Tim McLeod at a ceremony at Government House on December 14th.
Maxine started volunteering in her teens and over the years has volunteered with cultural, community, educational, sport, charitable and church organizations at the local, provincial and national levels.
Maxine has been a leader in the areas of diversity, equity, inclusion, anti-racism, anti-oppression and justice for years. She has made a positive impact on students, staff, families and the Regina community and continues to make Regina Public Schools a better organization in which to learn and work!
Congratulations are also extended to any other RPS staff members who are recipients of this prestigious medal.