What's New
Pride 2023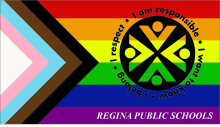 MAY 31, 2023 — Throughout Saskatchewan, June is known as Gender and Sexual Diversity Pride Month! It is a time when the world's 2SLGBTQIAP+ communities and allies come together to celebrate acceptance, human rights and diversity.
In Regina Public Schools, it is important that we demonstrate our Shared Values that include belonging and respect. As a school division, we are committed to ensuring that 2SLGBTQIAP+ staff, students, families and allies feel included, protected and respected. It is important to affirm and celebrate all identities and treat everyone with dignity.
rpscommunications
Wed, 05/31/2023 - 08:54
Third Annual RPS GSA Summit a Huge Success!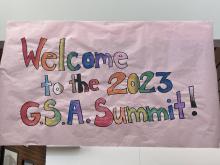 MAY 30, 2023—On May 13th, École Connaught Community School hosted the third annual Regina Public Schools GSA Summit for students in Grades 5 to 8. The GSA Summit was a day designed by GSA students for other students across the Regina Public School Division. Its purpose was to have fun, make new friends and be themselves. The event also encouraged participants to celebrate identity of self and identity of others.
rpscommunications
Tue, 05/30/2023 - 09:06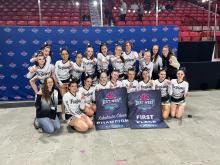 MAY 8, 2023 — In describing the evolution of the Thom Cheer Team, nothing short of stratospheric could apply!
The fledgling group was the brainchild of teacher Melanie Vollman, who started the team at Thom Collegiate in 2009 with a mere 10 untrained athletes. Navigating the arena of competition was a very difficult process and their first event in Moose Jaw did not produce noteworthy results. It did, however, provide an invaluable lesson about preparation and reaching the required skill level before stepping on a stage. This lesson led to a two-year hiatus from competition.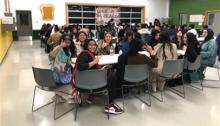 MAY 4, 2023 — Campbell Collegiate's Muslim Student Association (MSA) is active all year and has organized events such as fundraisers, potlucks, speakers and other community-building initiatives.
During Ramadan, this group was really busy. Tuesdays and Thursdays are dedicated to the MSA Speaker Series, where different members of the community come in to speak about a variety of topics, including volunteerism, community, time management and so much more. This speaker series has been well attended, often with around 100 students in attendance and are open to all Campbell students.
MAY 1, 2023 — On March 30th, the students and staff at McDermid Community School participated in Festivaal aen Michif. This whole school event (Pre-Kindergarten to Grade 8) was intended to celebrate Métis culture and to participate in Michif language revitalization. The day was coordinated with an eye towards relationship building (wâhkôtowin).