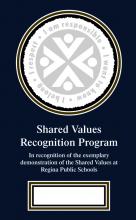 June 26, 2020 -- Congratulations to the SVRP Recipients!
Every year, Regina Public Schools honours and celebrates recipients of the Shared Values Recognition Program (SVRP). This year is no different. The Regina Board of Education has selected ten recipients for 2020.
These recipients were nominated in the 2019-20 school year by their colleagues, by students, by parents and by school community council members. They were selected by the Board because they exemplified the Shared Values: I am responsible; I want to know; I belong; and, I respect.