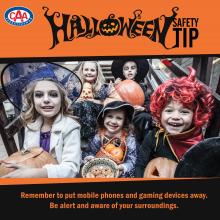 OCTOBER 27, 2022 -- CAA is reminding everyone to plan for a safe Halloween! Please consider these safety tips if you're adventuring out this weekend and on Halloween night.
Trick or Treaters - See and be Seen:
- Choose costumes that are bright at night, and don't obstruct children's vision and hearing.
- Trick or treating in groups is always a smart idea. It's safer and groups are more visible to drivers.
- When crossing the street, use designated intersections and crosswalks. Be sure to stop, look, listen and think.
- Use reflective tape on costumes and have children carry a flashlight for easy visibility.
- Use makeup instead of a mask to allow for better vision.