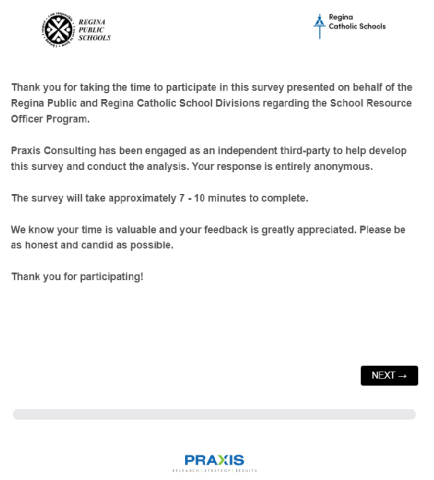 February 27, 2023. The survey is now closed. The Boards of Education will share results after they have been compiled and considered by the Boards.
Regina Public Schools and Regina Catholic Schools have engaged Praxis Consulting to conduct a review of the School Resource Officer (SRO) Program. The School Resource Officer Program is delivered through a partnership with the School Divisions and the Regina Police Service. The SRO Program has been running for 43 years. As with any longstanding program, periodic reviews are an important process to undertake.
The SRO Program Review will provide an assessment of the program, including its strengths and challenges, from the perspective of school families including students, parents, guardians and caregivers, as well as staff and school administrators. It will also gather insight and perspectives on how the program can meet the future needs of schools and the community.
Information gathered in open houses held in January and early February and through the online survey will help inform recommendations to the Boards of Education for next steps with respect to the School Resource Officer Program.
We invite you to share your input regarding the School Resource Officer Program through the online survey now available. The survey will remain open until February 26, 2023. The link below will direct you to the survey.
Students are also encouraged to fill out the online survey. A series of focus groups were held with students in December 2022.
Material that was shared at the open houses includes the following content. See the PDF here.
Participate in the online survey.