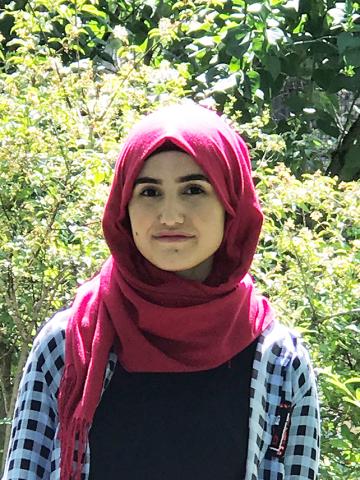 FEBRUARY 26, 2020 -- We are thrilled to announce that Sabah Sharif, a Grade 12 student at F.W. Johnson Collegiate, has been named a 2020 Loran Scholar.
This year, the Loran Scholars Foundation selected 36 exceptional young Canadians from a pool of 5,194 applicants who demonstrate a firm commitment to character, service and leadership potential; breadth in academic and extracurricular interests; integrity; and a high level of personal autonomy.
In 2014, Sabah, her parents and six siblings fled Qamishili, Syria and lived in Lebanon in a refugee camp for a year in a half. During that time, Sabah completed 120 hours of volunteer work with Save the Children. In 2016, Sabah and her family arrived in Canada without speaking any English. Sabah attended Judge Bryant School for part of Grade 8 before starting at F.W. Johnson Collegiate.
Besides focusing on her studies at F.W. Johnson Collegiate, Sabah volunteers through the Regina Open Door society to help teenaged newcomers transition to Regina high schools and works in their summer programs. She also tutors students and has a part-time job. Sabah has an interest in reconciliation and Treaties, and she plans to become a pediatrician.
The Loran Award is Canada's largest and most comprehensive four-year undergraduate award and is valued at over $100,000. Sabah will receive a renewable four-year award comprised of an annual living stipend and matching tuition waiver, summer internships, one-on-one mentorship and the opportunity to connect with other youth through scholar gatherings.
For more information about the Loran Scholars Foundation, please visit https://loranscholar.ca/.
Congratulations, Sabah! We are so proud of you and are excited to see where your Loran experience takes you.
Sabah Sharif's story was featured on CBC Saskatchewan's "Morning Edition" radio program. CLICK HERE to listen!