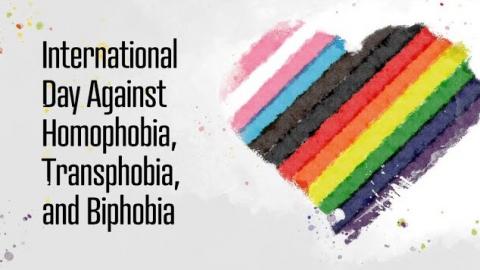 MAY 17, 2023 — May 17th is the International Day Against Homophobia, Transphobia and Biphobia. Established in 2004, the day affirms the right of all members of 2SLGBTQIAP+ communities to live freely as themselves in all countries and in all spheres—at school, at work, in broader society and at home. Its date commemorates May 17, 1990, when the World Health Organization (WHO) removed homosexuality from a list of mental health disorders in the International Classification of Diseases (ICD). It is a day to celebrate gender and sexual diversity and to condemn the discrimination, violence and stigma that members of 2SLGBTQIAP+ communities continue to experience in Canada and globally.
This year's theme global theme is "Together Always: United in Diversity" to remind us that in a time where the progress made by 2SLGBTQIAP+ communities worldwide is increasingly at risk, it is crucial to recognize the power of solidarity, community and allyship across different identities and borders. Education and understanding are necessary to eliminate homophobic, transphobic and biphobic discrimination.
Human rights are inherent to all human beings, and these rights are guaranteed for every person, regardless of gender or sexual orientation. Regina Public Schools recognizes that every student, staff and community member has equal value as prescribed under the United Nations Universal Declaration of Human Rights and the Saskatchewan Human Rights Code. Diversity makes us stronger!