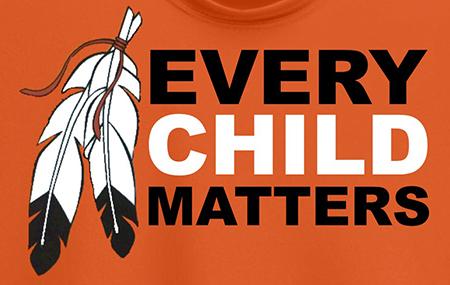 Thursday, January 12, 2023 -- Today many of us learned the news of preliminary results of significant Ground Penetrating Radar investigation at the Star Blanket Cree Nation, the site of the former Lebret Indian Industrial School, and other institutions that operated on that site from 1884 until 1998,making it one of the last residential schools to shut down in Saskatchewan.
According to a news conference with Chief Michael Starr, Council and members of the community, and project leader Sheldon Poitras, 2,000 anomalies were found. It is unknown at this point what those anomalies are. Due to the geological history of the area, the anomalies could be tree roots or rocks or something else, such as unmarked graves. At the sites investigated, some bone fragments were found, including a jaw bone fragment determined to be 125 years old having belonged to a young child.
Star Blanket Cree Nation announced on Thursday that, following these findings, it will begin conducting core sampling to run DNA test and to identify what may be in the discovered anomalies.
On behalf of Regina Public Schools, Trustees of the Regina Board of Education, its employees, students and families, we offer our support and encouragement to the Star Blanket Cree Nation, Chief Michael Starr and FSIN Chief Bobby Cameron.
Regina Public Schools also continues to offer its support to employees and school families who may have relations and connections to the Star Blanket Cree Nation, and to all Indigenous families who have felt personal and family loss and continued trauma as a result of Residential schools.
Even one unnecessary death of a child or an adult is unacceptable. The terrible legacy of residential and industrial schools continues to affect the everyday lives of Regina Public Schools employees, students and their families. The harm and intergenerational trauma caused by residential and industrial schools and the policies that supported them must be learned about and never repeated.
Regina Public Schools continues to recognize the need to bring to light the wrongs of the past and is working with Elders, students, employees and school families to identify racism, oppression and injustices of the past and present.
In this time for truth, Regina Public Schools supports and encourages the ongoing work, understanding and fulfilment of the Truth and Reconciliation Commission (TRC) of Canada Calls to Action. In the words of TRC Commissioner Murray Sinclair, "Education is the key to reconciliation…education got us into this mess, and education will get us out of this mess." We have much work to do to create equitable education. Our commitment to reconciliation has never been more important than it is now. This has begun and it continues with our identification and understanding of our shared history.
We respect every employee and school family and their need for privacy and time to heal. We do encourage anyone who needs to reach out and to seek help from some of the existing resources.
· The Indian Residential School Survivors Society toll free line: 1 (800) 721-0066.
· 24-hour crisis line for residential school survivors is: 1 (866) 925-4419
· Kids Help Phone: 1-800-668-6868 or Text: 686868