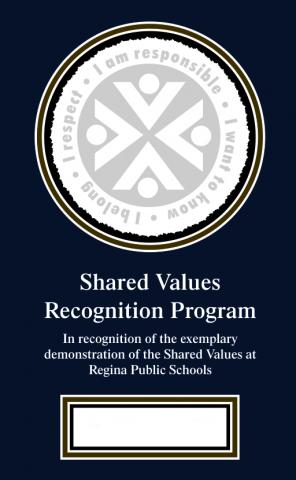 June 17-2022 -- On behalf of the Regina Board of Education and Regina Public Schools Administration, congratulations to the recipients of the 2022 Shared Values Recognition Program Award. Ten Regina Public Schools employees/partners have been chosen because they have exemplified the Shared Values: I am responsible; I want to know; I belong; and, I respect.
They were nominated by someone in their school and/or work community and chosen by the Selection Committee comprised of the Board of Trustees. To honour all the recipients, a reception and brief ceremony will be held in the Fall of 2022.
Thank you to the recipients for being a leader among your peers by demonstrating the values that form the fundamental beliefs that guide Regina Public Schools.
The 2022 SVRP recipients are:
Bonnie Armbruster, Administrative Assistant (Reception), Division Office
Laurie Ault, Teacher Associate, Kitchener Community School
Curtis Bousfield, Owner, Where 2 Transportation
Marlene Hamilton, Administrative Assistant, George Lee School
Keilyn Howie, Teacher, Thomson Community School
Laura Kuz, Arts Collective/Fine Arts Teacher, Balfour Collegiate
Kayleigh Manastyrski, DHH Teacher, Winston Knoll Collegiate
Darla McLeod, Head Facility Technician, M.J. Coldwell School
Krista Price, Academy Softball/Phys Ed Teacher, Martin Collegiate
Melissa Randall, LRT, Rosemont Community School
To learn more about the Shared Values Recognition program, follow this link.