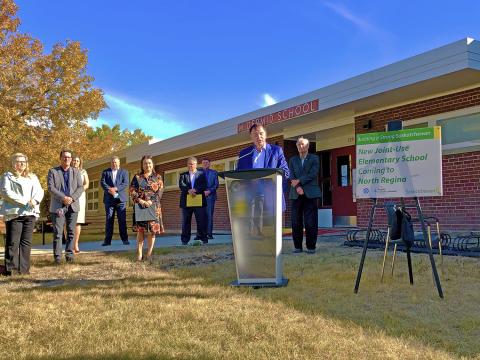 SEPTEMBER 25, 2020 -- On the front lawn of McDermid Community School, Deputy Premier and Minister of Education Gordon Wyant announced a new joint-use public and Catholic school to serve the McDermid and Imperial school communities, as well as the Regina Catholic Schools St. Peter and St. Michael communities. The event was emceed by area-MLA Mark Docherty. Attendees included several members of the Legislative Assembly. Chairperson Katherine Gagne spoke on behalf of the Regina Board of Education, and Regina Catholic Board Bob Kowalchuk spoke on behalf of his board. Representatives of both school divisions' administrations, including Director Greg Enion and subdivision four Trustee Cindy Anderson, were also present for the event.
The announcement signalled that the project is in the planning phase. No location has yet been decided, but the event was held at McDermid Community School as it was added to previously approved plans that involve Imperial, St. Peter and St. Michael elementary schools. According to the Government of Saskatchewan news release: "The project is currently moving through the scoping process to ensure students, staff, the wider community and other key stakeholders participate in providing requirements to ensure the new school meets their needs. Following the completion of scoping to inform the planning and design stage, construction of the new school is expected to begin in 2022. The requirement gathering process will cost approximately $250,000 and is critical in delivering the project on time, on budget and within expectations."
"Rebuilding old schools from the ground up is a fundamental show of respect for our school families - it says your education matters," Regina Public Schools Chairperson Katherine Gagne said. "By building new schools where they are needed, but also rebuilding existing schools, we can meet the growing and changing needs of all our students. Today's joint-use school announcement is a breath of fresh air and brings hope for the McDermid, Imperial, St. Michael and St. Peter school communities."
Follow this link to read the Government of Saskatchewan news release.