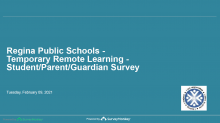 February 10, 2021 -- At the February 9, 2021 meeting of the Regina Board of Education, school division administration presented the results of two surveys relating to the temporary remote learning that was held before and after the holiday break. One survey was for students, parents/guardians and the public. The second survey was directed at employees but asked similar questions.
Summaries of the survey results are now available. For your information, there were 3,655 total responses to the student/parent/public survey. For the employee survey, 38 per cent or 1,106 employees responded.
Both surveys were confidential and anonymous.