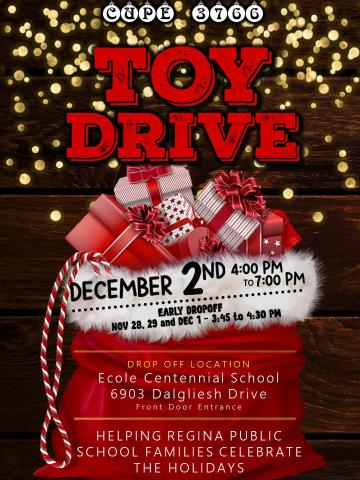 NOVEMBER 22, 2022 -- Regina Public Schools' CUPE 3766 members are once again requesting toy donations for families at Albert, Arcola, Judge Bryant, Centennial, Connaught, Coronation Park, The Crescents, Dr. George Ferguson, Glen Elm, Imperial, Henry Janzen, Kitchener, McDermid, Plainsview, Rosemont, Seven Stones, Thomson and Walker Schools.
Toys can be dropped off at École Centennial Community School at 6903 Dalgliesh Drive (front door entrance) from November 28th to December 1st between 3:45 and 4:30 p.m. or on December 2nd from 4:00 to 7:00 p.m.
Thank you for helping to make the holiday season a little brighter for some Regina Public families.